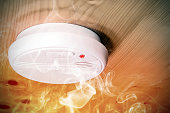 You rely on your smoke detector to warn you of danger you might otherwise be unable to discern. This key tool could spell the difference between life or death in the event of an emergency.
Unfortunately, not all smoke detectors are as reliable as manufacturers claim. This is evident based on a recent recall, which has consumers understandably worried.
Most people don't know which types of smoke detectors they have or how they function, so you'll definitely want to check if you purchased your detector after early 2019. Keep reading to learn which smoke alarms are problematic and how you should proceed with getting a replacement.
Which Smoke Detectors Are Being Recalled?
The latest smoke detector recall involves the brand Kidde. The manufacturer recently issued a recall of over 226,000 devices, including both the Kidde TruSense Smoke Alarms, as well as a combination version designed to detect both smoke and carbon monoxide.
Both products are sold by many major retailers, including Home Depot, Menards, and Walmart. Many of these smoke detectors can also be purchased online. The recalled models were sold between May, 2019 and September, 2020.
What Does the Return Process Look Like?
If you suspect that your smoke detector may be among the recalled models, look for the TruSense logo on the alarm. Additionally, alarms with "AMBER=FAULT" printed on them are involved in this recall. Keep an eye out for the model number, which can be found on the back of the alarm. This particular recall involves models 2040, 2050, 2060, and 2070.
Once you've confirmed that your smoke alarm needs to be replaced due to the recall, feel free to contact Kidde at 844-796-9972 or online. You'll receive guidance to help you secure a new device.
If you have been harmed due to a defective product such as a smoke alarm, contact the personal injury lawyers of Regan Zambri Long PLLC to learn more about your legal options.